Create and capitalize on demand through the Avesdo TMS.
Our Selection Worksheets feature is designed to digitize and simplify the workflow for the distribution, submission, and management of selection request forms. Selection Worksheets follow a simple three-step flow:
Setup
Submission
Management
With Selection Worksheets, you can create, send, and process thousands of worksheets within one solution to allocate homes more effectively, optimizing sell-through and sale price.
Let's go a bit deeper.
Step 1: Worksheet Setup
Selection Worksheets allow for the build out of custom distribution lists to determine who is going to receive select inventory and to determine the number of homes a recipient can select.
The Setup phase allows developers to control inventory while offering a dramatic increase in the volume of unit requests per project and a massive reduction in the cost and risk associated with the traditional process.
Stage Two: Worksheet Submission
Recipients that are invited to a worksheet event receive notice through an email automatically generated by Avesdo. Within the recipient's Avesdo portal, they can see all worksheet events that they have been invited to and can create and manage their worksheets from a single source. Realtors submit their worksheets to developers which can be filled out using a computer or tablet from anywhere a realtor has internet access. Once submitted, realtors can track the status of their worksheets as they progress on the Avesdo TMS through allocation and sale stages.
The Submission phase gives developers a clear, concrete picture of demand and unit-specific pricing threshold before any sales process gets started and the ability to thoroughly capitalize on it.
Stage Three: Worksheet Management
Developers and their sales teams monitor worksheet submissions throughout the process, in real-time. When a worksheet event deadline is reached, or when the development sales team wishes to, the submitted worksheets are ranked and sorted to provide a basis for an informed, efficient and optimized allocation process. Submitted worksheets can be visualized in different ways and can be viewed at any time in the sales grid. Allocation "requests" can be sent by an individual worksheet or in bulk, and the requests can specify deadlines and deposit payment terms (ex: credit card).
The Management phase gives developers the ability to leverage sales and pricing insights earlier than ever before to maximize revenue and sell-through.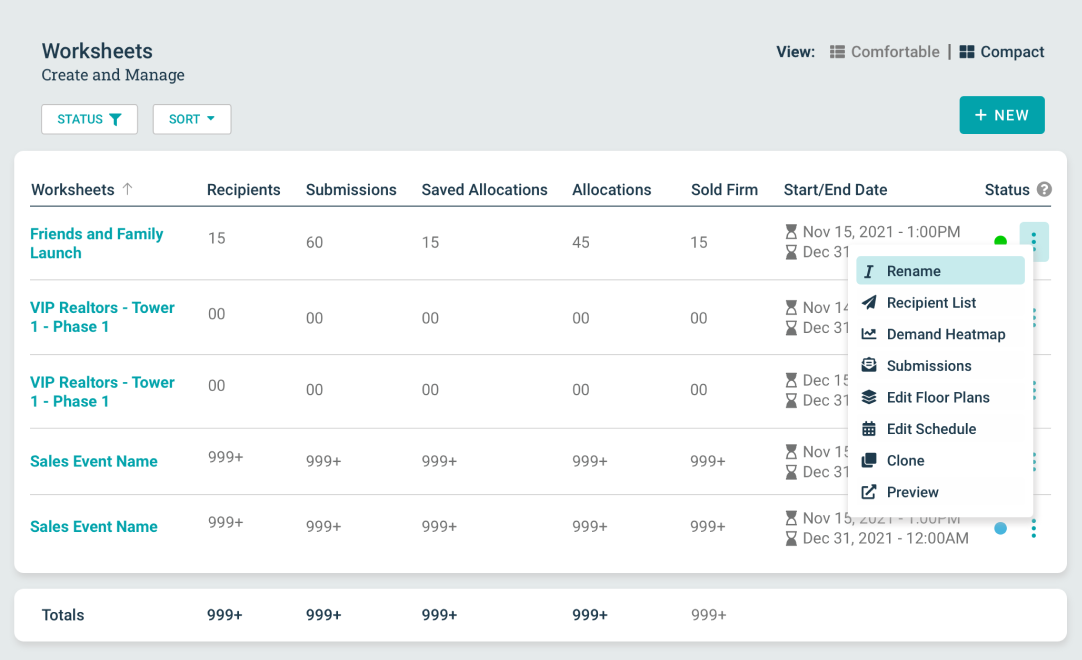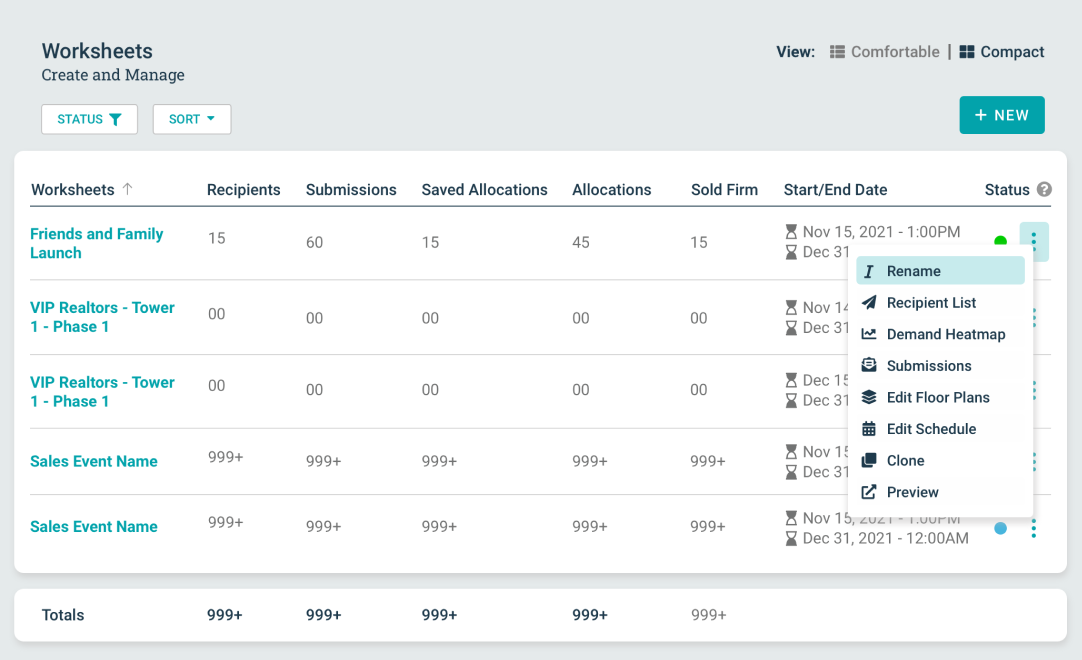 Discuss Worksheets with Our Team
If you are interested in learning more about how Selection Worksheets can give you a clear, concrete picture of demand before any sales process gets started and the ability to thoroughly capitalize on it – let's connect.
If you know your Account Director, you can book a meeting with them below. Our Advisors & Account Directors have over 75 years of experience in the real estate industry and use that hands-on experience to give you the ability to utilize Avesdo to best achieve your sales & marketing goals.
To learn more about their real estate experience, check out our team page.
—